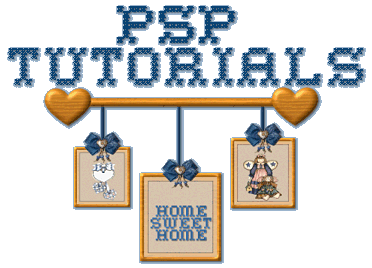 When I first started creating graphics it was the Net Sisters Graphics Committee that took me under their wing in a group called Dream Graphics. It was there that I learned the basics. Later I joined a floral stationery list It was that list that taught me the basics of creating OE5 Stationery. A lady sent me a script that is so easy you don't have to know html or edit html like some of the more difficult scripts. This script is for a left side border scroll. The screen shots may appear different then yours don't be alarmed by that it's because I have windows xp which is a little different than windows 98. Okay, lets move onto the tutorial.
You will need to download this script to your desktop so it's easily accessable.
First open a new email, then click on insert, text from file.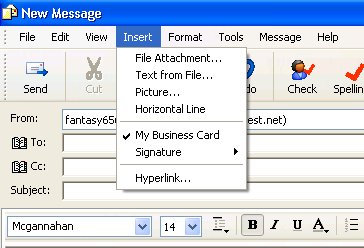 Next is a screenshot of how to locate the html file. Flip html up and the Kaths OE Script.html will appear.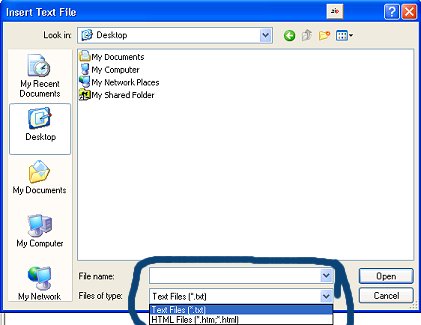 Here is a screenshot showing the script file. Select it and click open. Your script is now ready to use. All you need to do is add your stationery image and your sound file.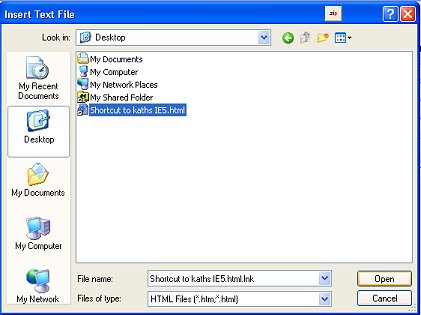 Now we will add your stationery. This time in your new email message click on format go down to picture and click on browse when the little window pops up.

Go to your folder where you keep all your stationery and select it, click open. You should now see your stationery. Next click on format again this time click on sound. This is the menu that will appear.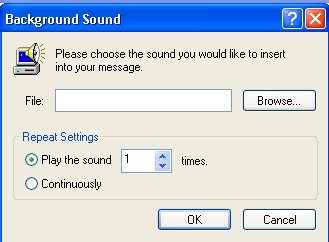 On that menu click on browse and select the midi file of choice. Then check continuously, click ok. You are now done and ready to add your text message and send it.