Dspirit Cheer
As spring sets in we hear the birds chirping
We watch as the flower's bloom, blossom.
The sun shines on us,
making everything so very pretty.
We see different shapes in the clouds,
trying in our minds to place a name to the image
could one be our spirit stick at hand?
Could it be dspirit?
We ask ourselves what does this mean?
It means to SHOUT IT OUT!!!!!
Let the fights begin.
Mon. May 24, 1999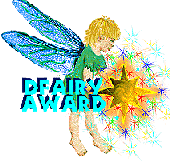 Recieved June 18, 1999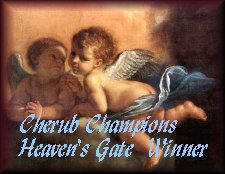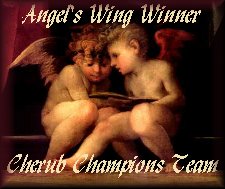 Thank you to all of you that have supported me. Could'nt have done it without ya.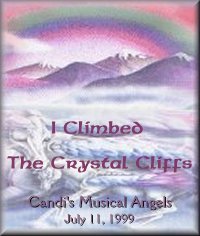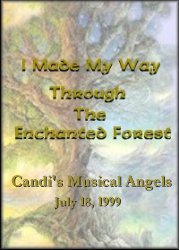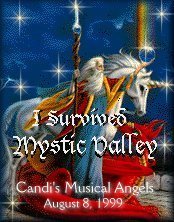 For the supporter's of Candi's Musical Angel's
I would like for all my supporters to take these two gifts. This is my way of saying Thank-You.
DHunter Candi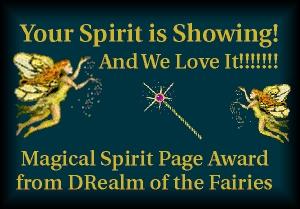 Given to me on August 6, 1999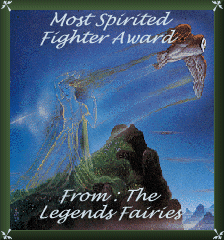 Given to me on August 7,1999
My daughter had to be cute and pull this fast on on me. Never fear, though I'll get even.
I was bonded and released on June 18, 1999. Thank you Terri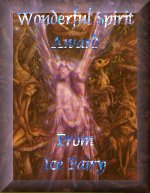 This came as a shock to me. Thank you so very much.
As the lightening strikes
you see the cracking of branches
you listen as the thunder rolls,
you can smell the fresh air
This does'nt stop what's happening around us,
You ask what that is,
Shouting at the SHOUT IT OUT!
Fairys, Spirits, flying day and night
Spreading their spirit.
Fighter's making new friends.
GO!
SHOUT IT OUT TODAY!
LOUD AND CLEAR FOR ALL TO HEAR!
You've just been dusted with dspirit.
This candle burns for all the victims of the Columbine High School tragedy in Littleton, Colorado, and for all other victims of school violence. Please visit the Littleton Memorial Site

Please don't forget all those injured, murdered at the Springfield, Oregon school shooting.

Send a Spirit Flower!

Send a Spirit Flower!
Recieved on 08/18/99
Given to me by Debbie
Thank- You
Given to me on 5/24/99
Thank-you Fairy Angel Eyes
Vote exchange only, for weeklies

Click to subscribe to Candiweekly
Vote exchange only, for Daily's

Click to subscribe to Candi
Vote for our site on WEEKLY TOP SPIRIT PAGES!
August 18, 1999