Everyday, there are women being badly beaten, or murdered by their boyfriend & or spouse. I am a surviver of domestic violence. I for one, know all the reasons in the world why these women stay. The truth is, there is a way out. It takes very careful planning, inginuity, creativity. One example, is if your married, and there are some other pretty sick stuff he is doing. You have the legal right to get your local state involved, have him commited. I know this because, my best friend did it. Now, she is happily involved with another, living in another state. She had decided she too had enough, agreed to marry him. It was the only way they would commit him. He was a good friend of mine as well. But after hearing, seeing all the things he had done. I'm glad she's away from him. He had cut two of his finger's off in front of his son, made their youngest drink anti-freeze. He had a stick per enemy, he had carved. He intended to beat them to death with. This is just a portion of what she went through. I just wanted to share this with all the women who face domestic violence.

This page in my domestic violence is dedicated to the woman who taught me to fight, be strong. The woman who stood by my side while I too suffered, gave me the strength to take the first step.

Thank-you Nancy
Your friend forever! I love ya!!!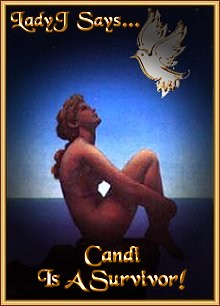 Thank-You! This means alot to me.
My Prayer
God, grant me the serenity
to accept the things I cannot change,
Courage to change the things I can,
and the Wisdom to know the difference.

FootPrints
One night a man had a dream.
He dreamed he was walking with the Lord.
Across the sky flashed scenes of his life.
For each scene, he noticed two
sets of footprints in the sand;
one belonged to him, and the
other to the Lord. When the last scene
of his life flashed before him, he looked
back at the footprints in the sand. He
noticed that many times along the path of
his life there was only one set of footprints.
He also noticed that it had happened at the
very lowest and saddest times in his life.
This really bothered the man and he questioned
the Lord about it. "Lord, you said that once
I decided to follow you, you'd walk with me
all the way. But I have noticed that during the
most troublesome times in my life, there is
only one set of footprints. I don't
understand why, when I needed you most,
you would leave me." The Lord replied,
"My precious child, I love you,
and I would never leave you.
During your times of trial and suffering,
when you see only one set of footprints,
it was then that I carried you."


I have always been delighted at the prospect
of a new day, a fresh try, one more start,
with perhaps a bit of magic waiting somewhere
behind the morning.
Poems & Gold Background used with the permission of Lady J

Home / My Fight Against Abuse / Is It Emotional or Physical / Help Organizations / Poems